Zippy was a lightweight robot which was intended to enter the Lightweight Championship of Robot Wars: The Third Wars. However, the event was cancelled due to a behind-the-scenes accident in The Pits, and subsequently, Zippy did not appear on the televised show. The team were also not informed about the changes made until the last minute, to their team's dismay. As a result of this, very little is known about the robot and its potential performance.
"Due to an accident, filming was stopped and the lightweight and featherweight filming cancelled for this series. VERY VERY SAD. Our sympathies go to the creator of ZIPPY from Manchester, the Slippery Strana team from Bristol and others who must be as gutted as we are."
— Team General website, mentioning Zippy as one of the planned Series 3 Lightweight competitors[2]
Design
[
]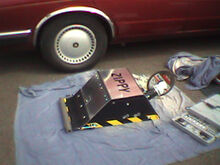 Zippy was designed similarly to Vector of Armageddon, it was silver with a wide body and an upright front and back wedge. The back wedge was armed with a circular saw or a cutting disc. The robot had a penguin mascot, black sides and its name printed in bold on the top of the robot. Around the edges was a black and yellow striped skirt that was to presumably prevent other robots from getting underneath Zippy.
Robot History
[
]
References
[
]